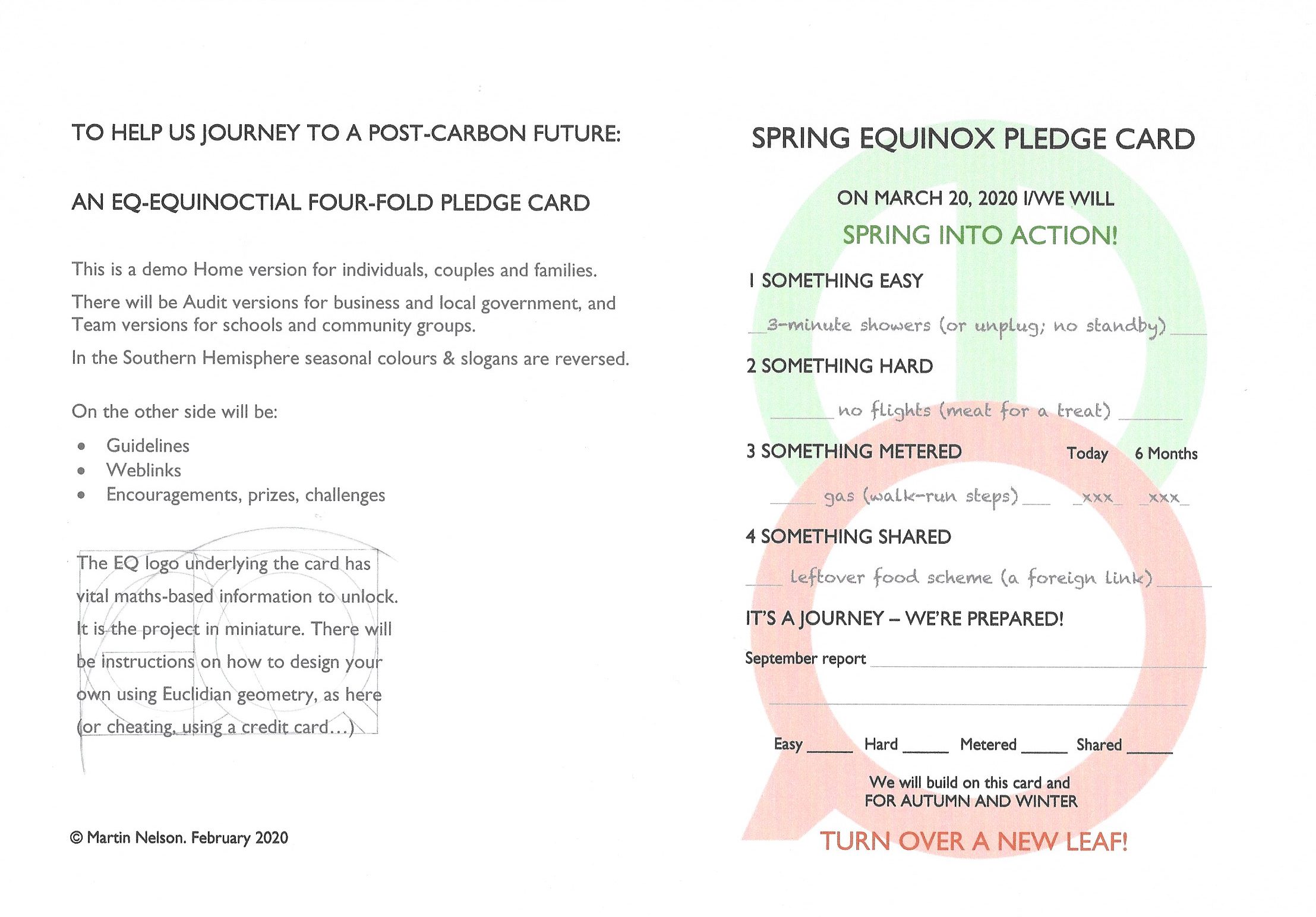 SPRING INTO ACTION

and

TURN OVER A NEW LEAF
it's a journey – we're prepared!
You can fill in your own actions for every March 20/21 and September 22/23. Equinoxes have unique qualities to help us 'do our bit' and rise to the challenge of the climate crisis. How? First, with Spring and Autumn Pledge cards, previewed here. But equinoxes can revolutionise Earth Days in all sorts of ways…
Equinoxes are Earth's fixed events of Spring and Autumn. They are planet events
Day and Night is the same across the globe at equinox. We are Equal under the Sun*
This – an irrefutable fact and an irresistible metaphor –  is the logical and appealing twin base for EQ, from which much else flows:
Neutral by definition. Precious in polarised times. Seasonal moments of balance
Biannual twins double up on annual action, accelerate change
Zoom out into space – then back. Boundaries disappear – more unites us than divides
Other practical applications include
Audit points harmonise with academic and financial years
Summer & Winter: two energy-use patterns emerge
Daylight Saving: equinoctial logic solves the conundrum
Logo: the universal maths of Phi & Fibonacci imbedded – a great educational add-on
Heuristic: It's all about finding out and taking responsibility. (H)Eureka!
Will you be an early adopter and take the EQ five-fold pledge each equinox?  There will be tailored online resources, reinforced with targets, games and challenges to help your Pledge Card become a six-monthly habit, accelerating your journey to a sustainable post-carbon future.
EQ has great and good potential. I like the big simple truth it stems from and pays into




Seamus Heaney
A fascinating and imaginative initiative 




Archbishop Desmond Tutu

 
Click any dark green text for more matters equinoctial
*equalunderthesun.org is a demonstration website built in 2013
©Martin Nelson February 2020
One touch of nature makes the whole world kin




Shakespeare
is the Registered Trade Mark ® of Equinoctial Days Ltd.
Company No 584213