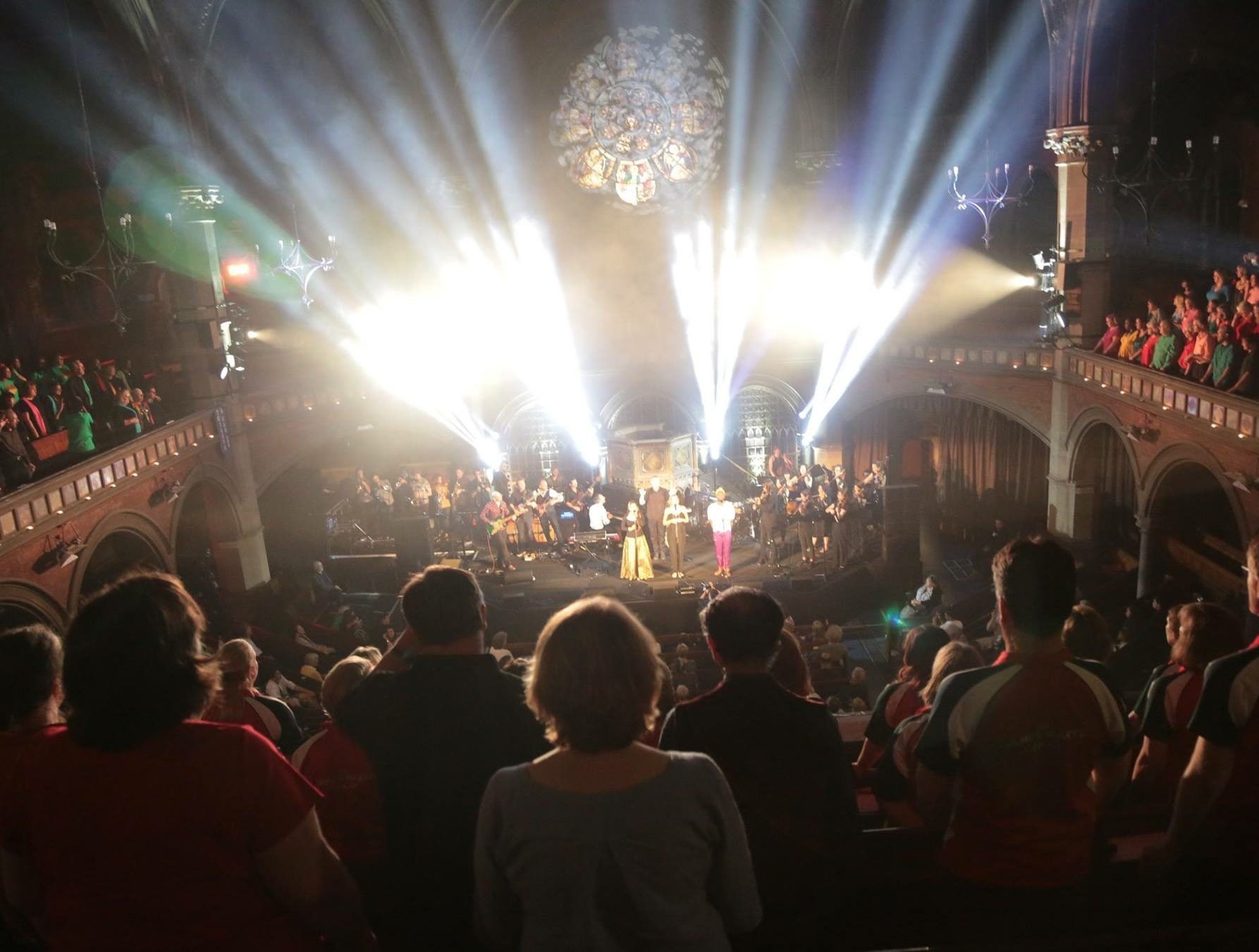 As it's the Summer Solstice today I will end this post with a personal footnote, for I first met Michael Solomon Williams at the 1989 solstice in a magical performance of Britten's opera A Midsummer Night's Dream. He was six, and the 'fetched' Humble Bee to my Bottom. So more of that anon… now Common and Kind – which is Michael's #JoCox #moreincommon -inspired initiative, subtitled more in common in music.
Please do yourself (and the chosen charities) a favour and download Human Kind, (just £0.99) the video single that is the fruit of his response to the sense of polarised divisiveness that pervaded June 2106, sadly still with us.
Shortly after the release Michael organised a second Union Chapel concert, Common and Kind 2017, which again featured stars from all music genres and massed choirs. It was a special occasion.
Common and Kind has exactly the same worldview as EQ-equalunderthesun. They come to the same conclusion from opposite ends of the telescope: one from a specific time and place, and the words of a murdered politician: "We are far more united and have far more in common with each other than that which divides us". And one from the planetary Big Picture that comes when you zoom out into space in your imagination and sense boundaries disappearing – not least at the moments of equinox, when all life on earth is equal under the sun. Pole to pole, east to west, 12 hours of darkness, 12 of light. Moments of shared experience, destiny and humanity.
But having zoomed out, you can zoom back to your personal life, feeling more interconnected and empowered.
I am now zooming in time and space –  back to Music Camp in the Chilterns and a midsummer night in 1989. The weather is perfect and the performance starts in late evening in the quad of Pigotts, around and under a spreading tree at its centre. As the twilight grows, tea lights start to glimmer in windows… It's Act 2 now, and Bottom, with ass' head (a wooden loo seat about my neck with two loo brushes as ears) is in Tytania's flowery bed, attended by fairies. "Where's Cobweb?" I sing. "Ready!" "Mounsieur Cobweb, get you your weapons in your hand and fetch me a red-hipped humble-bee" That'll be Michael Solomon Williams!
As the act ends, it is dark and the air full of pricks of fairy light, birdcalls blending with the music. Then comes the masterstroke. Conductor Howard Williams (yup – dad) has composed a perpetuum mobile figure to allow the orchestra (instrument by instrument), audience and cast to move en masse on Bottom's command "To the Palace go away! Go! Go! GO!!" – into the Barn. It took maybe five minutes, and not a stitch or note was dropped. And so in dazzling candlelight the final scenes are played out in a 'palace'. No one who was there will ever forget it. As I said, magical.
© Martin Nelson 20 June 2017