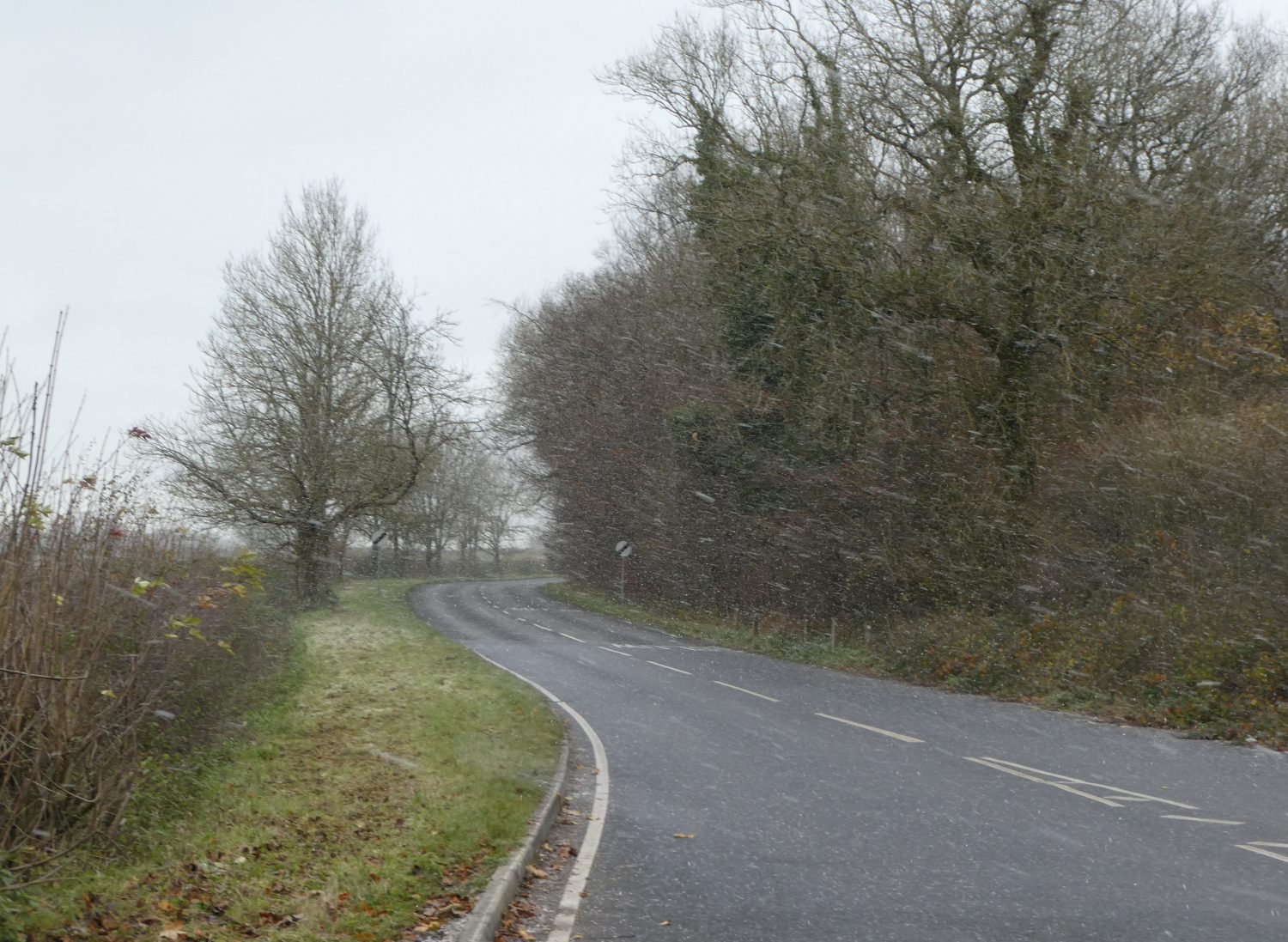 Forecast as unbroken sun, the last day of November brought substantial snow to the East Coast, and flurries on the North Downs, too. Base Camp was Woldingham Station, where the train sets you down straight into the delightful Marden Park valley. Large flakes flecked the scene. This climb to the North Downs Way is Spoke 3, and a C25 highlight. Turning anticlockwise on Arc 6, and to stretch the metaphor far too far, the Western Cwm of the ascent to the 900ft summit of the whole C25 system is the sharp turn onto the road up Gangers Hill, which in descent is a genuinely hazardous sharp right on a steep hill and a bend: take care!
As you can see the summit is underwhelming, but a terrific view is about to open up over the Kentish Weald on Clarks Lane (B2024) Croydon to Westerham Road – a rare stretch of 60mph main road, but wide and nicely graded. I chose not to apply the brakes and dropped down to Arc 5 Lower – the Pilgrim's Way alternate (see the earlier post, The Chevening Diversion), and after a sandwich sitting on a sunny sheltered grave in Chevening churchard, turned into the wind for the remaining few miles through Shoreham and the Darenth valley, then up to Swanley where a warm fast train back to Victoria awaited.
I had hoped to catch the last of the autumn leaves, still plentiful last week, but they had all gone. However the snow showers interspersed with sunny breaks on a stiff northerly wind made this an exhilarating 28 mile ride.