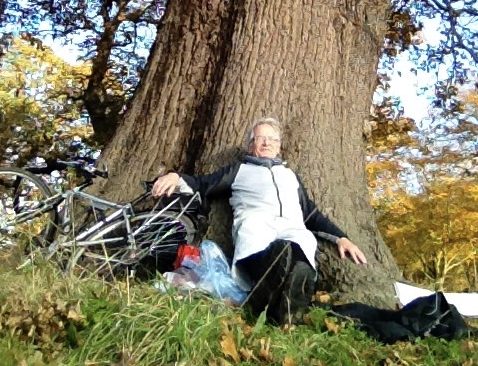 This, on 18 Nov 2014, was my first C25 exploratory ride – from Amersham to Staines – and on a similar day last week I stopped for my picnic under the same accommodating tree. It isn't Shakespeare's Hernes Oak – that died in 1796 – but a fine tree in any event, and the south facing roots form themselves into a convenient armchair. Perhaps it is a descendent.
My bike here is a Marin Sausalito, and it had been my faithful steed for a decade. Sadly it was to make just a couple more C25 runs, for it was stolen three weeks later. The rides that autumn were tentative explorations, mainly in the Chilterns and the Lea valley; it wasn't until a new bike was acquired in early 2015 that mapping a coherent system began in earnest.
Three years later, my purpose is to take higher res pictures of the C25, and to check over the routes. Last week's run was from West Drayton via Bikepass 2 (which is a good winter alternative to the Slough Arm Canal), then Spoke 8S via Eton to pick up Arc 9 through Windsor Great Park. Here I enjoyed a broad circuit inside the park, using the Spoke 7 system, which feed from Egham and Virginia Water stations.
The final task was to confirm that Feltham, the zone 6 boundary station on the Waterloo to Reading line, was correctly omitted from the C25. Feltham is just four flat miles from Staines Bridge, where Spoke 6-7 link arrives up the Thames from Hampton, but there is no feasible alternative to cycling on busy main roads – hence the omission.