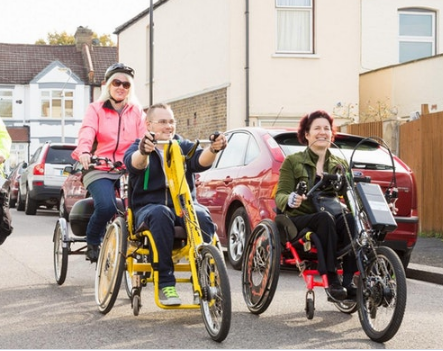 The Cycling and Society Symposium was held (at short notice) at Imperial College on September 7-8. I have been increasingly attending academic and activist cycling meetings; this was the most comprehensive and stimulating, with cross-cultural and -disciplinary contributions from Europe, the Americas as well the UK.
I have always had inclusivity in mind when designing the C25; the photo tour around the arcs spokes and spinoffs starts with a check-list slide for the defining rules of route selection:
Off-road or quiet lanes wherever possible. Off-road: negotiable without the need for MTB/Cross-trainers. On-road: minor lanes or 40mph max speed limit roads (rare).
Cycleable all year by all but 'thoroughbred' racers (minimum recommended 700c tyre size 28c, puncture resistant).
In other words the C25 is available to ride by all ages, without the need for specialist equipment. But what of "non-standard" cycles? Isabelle Clement opened my eyes to the needs of cycling for the disabled, and the work of their charity, Wheels for Wellbeing. There are two key issues here; variable accessibility on the rail network, and the presence of permeable barriers on offroad routes to exclude motor cycle ("joyriders").
The former requires pressure on the TOCs (train operating companies) to improve accessibility; the latter  – some imaginative design rethinking?
Clearly not all 700+ miles of the C25 can be made available to trikes, handcycles and other non-standard bikes, but there are wonderful sections (I am thinking of the Lee Navigation and East London Greenway, and particularly the Jubilee River, Eton Dorney and Windsor Great Park) which are partially "sterilised" by bicycle-permeable barriers.
There are miles of beautiful cycling here, with perfect conditions for the disabled or aged cyclist to enjoy. At the very least I can register this potential, but at least from now on, as I re-cycle the routes, I will have true inclusivity in mind.