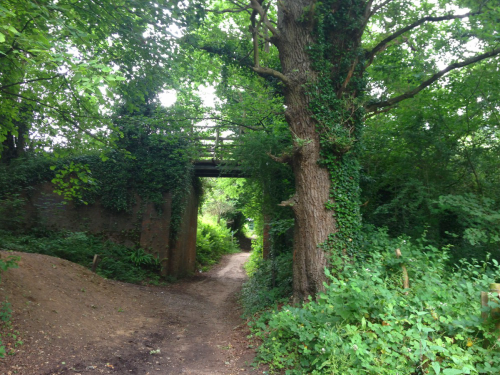 This lovely spinoff uses National Cycle Network 22 throughout, but here it joins the Downs Link cycle path which uses the trackbed of an old branchline from Guildford to Shoreham-by-Sea by means of a quaint cycling 'cloverleaf' flyover. To the right (S) lies Cranleigh and Horsham (NCN 223); to the left (N) the spinoff's destination, Guildford. NCN22 then continues to Farnham with an intended final destination of Portsmouth.
In its 19 miles from the C25 junction in the Mole Gap under Box Hill to the centre of Guildford this Spinoff meets all manner of landscape and conditions under-tyre, with only the briefest of dalliance with the main roads it shadows – the busy A24, A25 and A281.
This is the sort of ride on which to pack a picnic; there are so many opportunities to dismount, relax and enjoy the countryside. Conversely, though strenuous in sections, it does not lend itself to distance-fitness riding. There are other C25 opportunities for that – not least Arc 7 that runs on the North Downs, parallel and above.