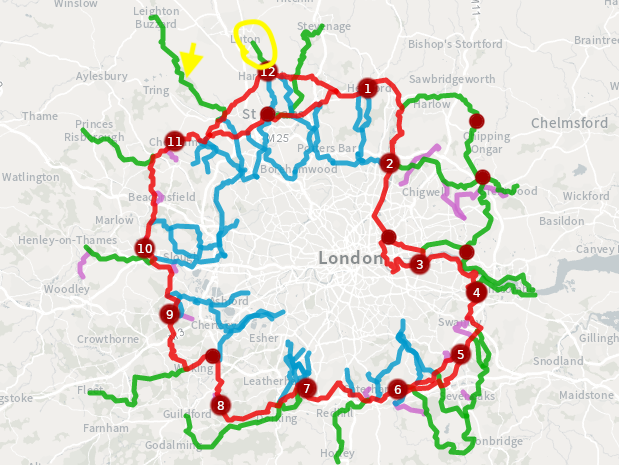 Checking out Cycle Orbital in 'longshot', with all 750+ miles of it standing out so well now against Ordnance Survey Light, a longstanding niggle was all the more clear: there is a long gap between Spin-off 10 and 11, and I knew there was fine Chiltern countryside there, especially around Ashridge Estate (arrowed). Furthermore, the existing Spin-off 11 (ringed) is a stubby 4 miles of admittedly good cycleway – but it's the mapped and signed NCN 6, easily accessible. Lockdown 2 or no, there was work to be done. On a benign late November day the ride turned out to be a corker.
After map study the destination of Spin-off 11 was clear; at Leighton Buzzard NCN 6 reaches the Grand Union, continuing to Milton Keynes, so the rider can continue north on the towpath, or take a train back to London. But at 20 miles that's a long Spin-off, so best to initiate at Hemel Hempstead station, on Arc 11 outer and near the termination of Spoke 10 canal.
The mid section was well known from walks, particularly autumnal; the National Trust's Ashridge Estate, and the two mile ridge-top Duncombe Terrace from the Bridgewater monument towards Ivinghoe Beacon, the prominent landmark hill that was and is the destination for the Ridgeway ancient path. Thereafter it's an unclassified road via Slapton through the Vale of Aylesbury to Leighton Buzzard.
The mapped ride was indeed excellent in practice, with several additional miles of Ashridge forest beginning at Potton End that has off-road and private road sections. The first miles minimise the Hemel suburbs by flirting with the New Town centre before enjoying the fine church of the Old Town adjoining Gadebridge Park. The details are here on the Cycle Orbital website.
© Martin Nelson, November 2020