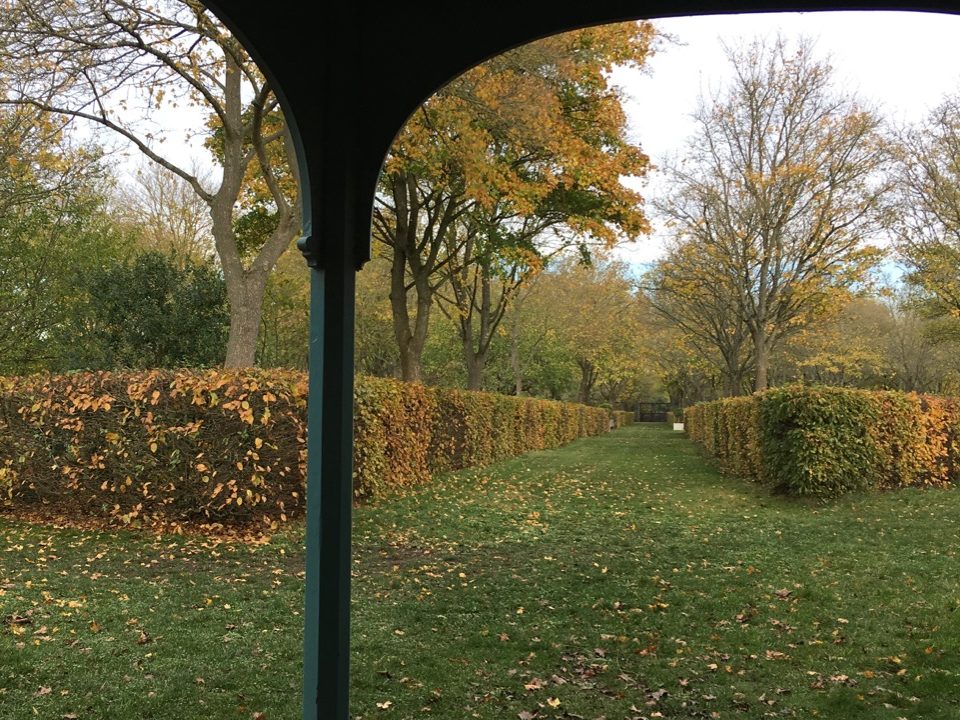 Cycle Orbital has its own site, so this is now an occasional blog. This autumnal Lockdown 2 is my first in London, and I've had to devise some 20-30 milers from the front door here in Camden's Primrose Hill. So far I've chased the best of the falling leaves in three satisfying runs that conform to CO standards pretty well: as off-road, traffic-lite and rural-green (well, russet-gold) as possible:
Notting Hill-Chiswick-Kew-Richmond-Ham-Putney-Kensington. 27 miles of maxing-out on SW London parks and Thames-side cycling. That Ham House gardens (NT) are open all year was a bonus, this gazebo a lovely private spot for my picnic stop.
Hampstead Heath-Dollis Brook-Whetstone-Pymmes Brook-Ally Pally-Highgate. A much hillier 21 miles, and more of a discovery adventure, though I knew most of the route. It's a shame that the river Brent tributary Dollis Brook is not cycle-able all the way from Finchley to Barnet, but it's a pleasant -if improvable- ride. Up and over the Oakleigh Park watershed, and then it's down the more cycle-friendly Pymmes Brook to the North Circular, where you jump ship to the New River before re-ascending the Hampstead-Highgate hills. A decent cardio workout, and of course the suburban foliage can be just as spectacular as the parkland – nowhere more so than in Hampstead Garden Suburb.
Highbury-Stamford Hill-Lea Valley-Olympic & Victoria Parks-Islington. A shorter 16-mile circuit, but plenty of autumnal splendour in the two destination parks. The route back from Victoria Park, via London Fields and De Beauvoir Town is a relaxing largely traffic-calmed and -free ride.