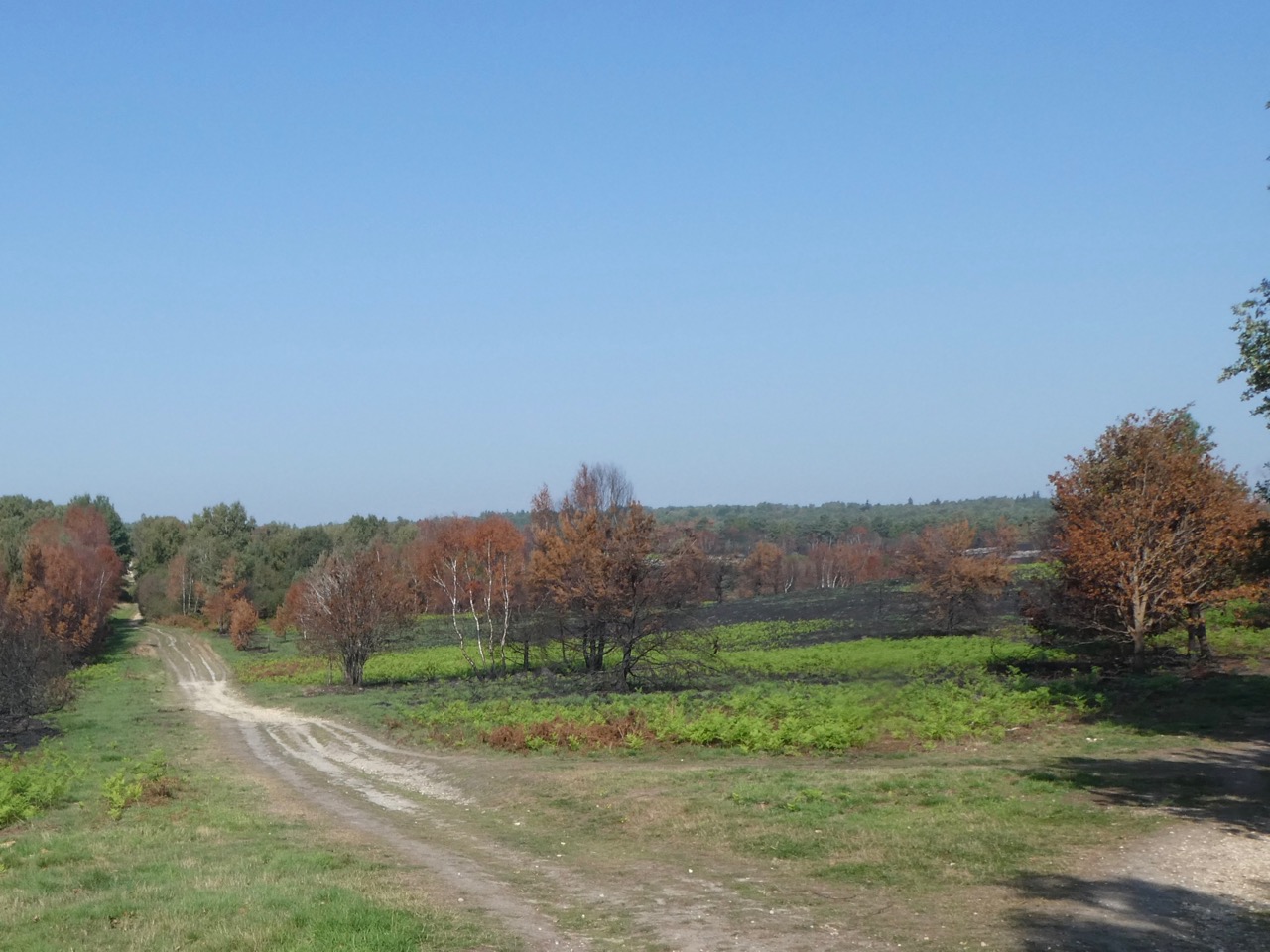 Since this was posted at autumn equinox, you may have been directed here from an equinoctial greeting, announcing a completely new website – Cycle Orbital. This was born from the C25 project documented here in Trailblazer, but Cycle Orbital shares some brand features with its equinoctial "parent", EQ.
The theme for the post – the regenerative power of nature – came by chance, during a final ride on equinox-eve to check out two sections of the network west of London in Feltham – Spoke 7 – and Chobham – arc 8.
I had heard of a serious fire on Chobham Heath* last month; it turns out to have been precisely the area where Cycle Orbital takes a couple of off-road miles en route Woking to Windsor. But to my astonishment the bracken is doing a job of greening the area already, just weeks later. A passer-by told me barely ten days had passed before the shoots were showing, and now lizards and other wildlife is returning.
So, Happy Equinox! I take comfort in concerning times from this timely reminder; that despite our foolish and dangerous efforts to disrupt, ignore, or override natural processes, there is at least an inbuilt resilience there that could come to our aid, even at this eleventh hour. Oh – and Happy Cycling! (one of the few real positives to come out of the Covid crisis is the rediscovery of bicycling by young and old, male and female. It is both social and self-isolating – along with the many other benefits).
Cycle Orbital, by the way, retains EQ's spring-autumn colouring, and as the letters CO and EQ are similar, the new CO logo is Golden Ratio-derived as well.
*By happy coincidence, the panning shot at the end of this BBC drone clip comes to rest showing almost exactly the area covered by my photo.