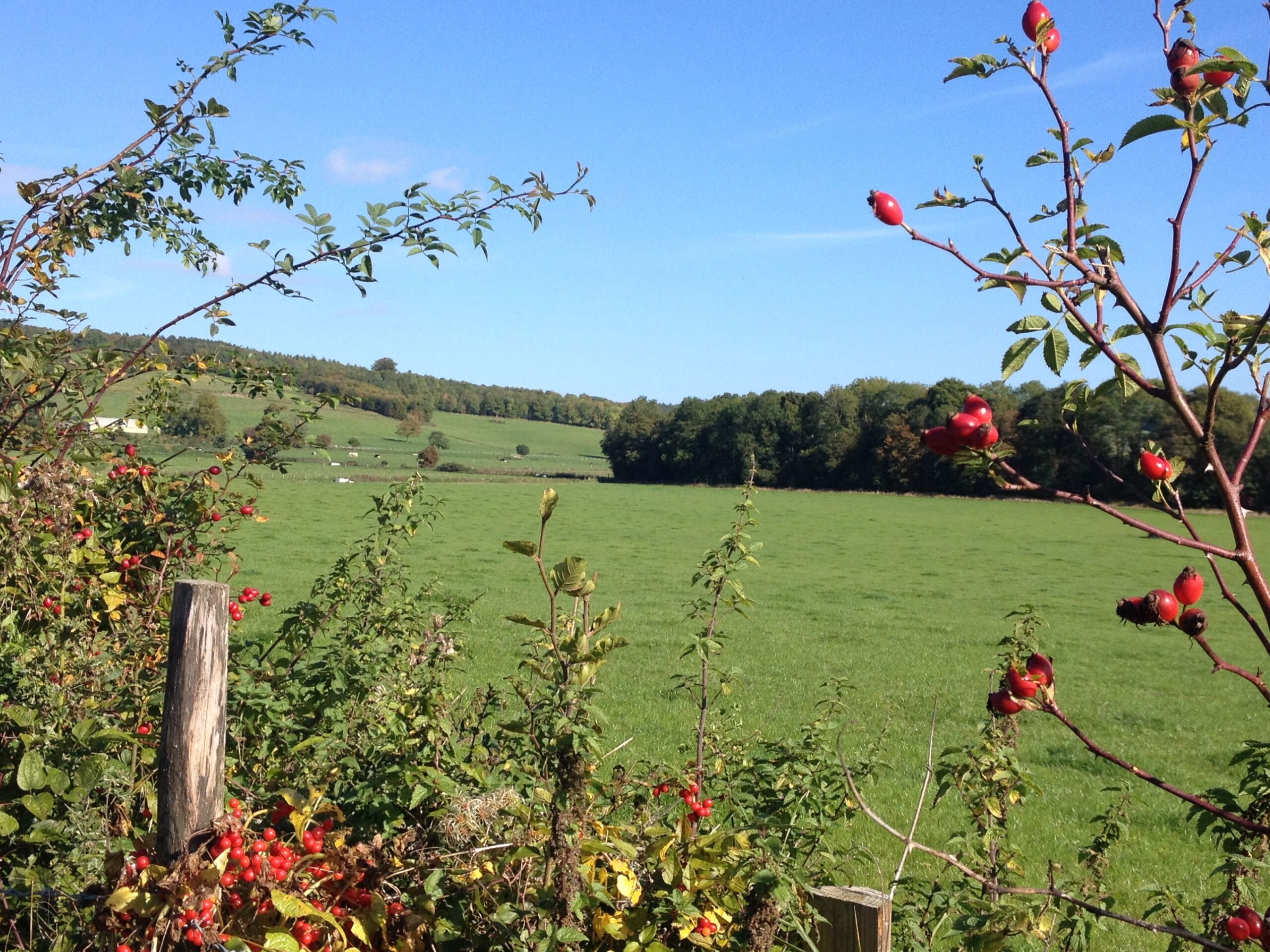 This unexceptional photo needs your intervention. Please imagine, in the middle distance, moving left to right and disappearing behind the wood, a motley procession of riders on horseback in medieval garb. Got 'em? Look closer…
You're right; that's Chaucer's Kynght at the head, then the Wyf of Bathe, the Pardoner, the Reeve – and Robin the Miller taking up the rear, of course. For this is the Pilgrim's Way from Winchester to Canterbury, here under the North Downs at Chevening.
It is also Arc 5 (lower) of the C25. Or rather should be, but this is as close as you can get to this ancient and iconic track, for in this shot it is passing through the grounds of Chevening House, currently the official retreat residence of the Foreign Secretary, and others.
Is it a shame or a scandal that we cannot walk or ride along this two mile section of the Pilgrim's Way? I pose the question – but add that there is a public footpath a little higher up and further from the house (and a footpath that passes through the grounds of Chequers…). And the Pilgrim's Way was following an ancient Stone Age Trackway akin to the Icknield Way and Ridgeway…
The Pilgrim's Way is part of our national heritage and I think modern security techniques can preserve the integrity of Chevening House grounds – especially if the track is hidden behind a substantial ha-ha as it passes 400m north across, but below, the view from the house. A modest proposal to put before Boris, don't you think?
In the meantime, the C25 takes a (temporary?) Diversion; it proposes a short walk on a footpath to see Chevening church and village, which also minimises mixing it on the busy B2211, then taking a southerly loop round the estate on Ovenden Road.
My trip that day two years ago was quite an epic. I was a man on a mission, the purpose being to make good gaps in the photo record – in this case of Arc 5, Spokes 2 and 11NE and Arc 11. The itinerary was train from Charing Cross to Knockholt, thence to Shoreham (10.30), Chevening, Down House (midday), then a train from Hayes to Cannon St, a dash to Farringdon to get a Thameslink to Elstree, so that by 2pm I had passed through South Mimms to record the lovely byway I had just discovered to North Mymms. An hour later I was on the Alban Way to Verulamium, then just time for a cuppa in Bushey at 4 before the fast train to Euston. 45 miles riding, and home by five!