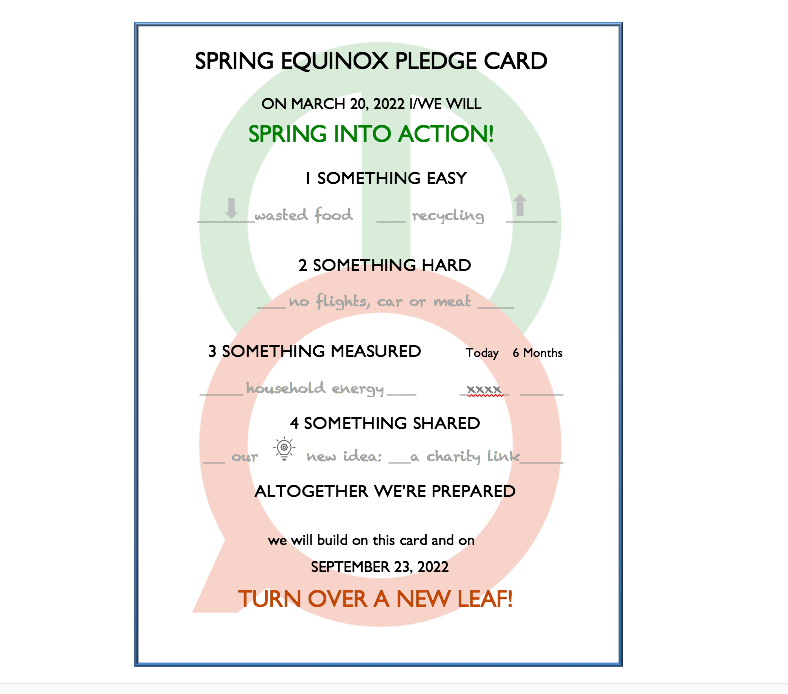 How will you Spring into action and Turn over a new leaf? Make your Pledge Card and share your ideas here
Beneath and beyond two good slogans and these pledges lie the unique qualities of equinoxes*; these can activate Earth Days anew, helping us rise to the challenge of the biosphere/climate crisis:
Equinoxes are Earth's fixed events of Spring and Autumn. They are planet events
Day and Night is the same across the globe at equinox. We are Equal under the Sun**
This – an irrefutable fact and an irresistible metaphor –  is the logical and appealing twin base for EQ, from which much else flows:
Neutral by definition. Precious in polarised times. Seasonal moments of balance
Biannual twins double up on annual action, accelerate change
Zoom out into space – then back. Boundaries disappear – more unites us than divides
Other practical applications include
Audit points harmonised with academic / financial years
Summer & Winter: two energy-use patterns
Daylight Saving: equinoctial logic solves this
Logo: the universal maths of Phi & Fibonacci…
Heuristic: It's all about finding out and taking responsibility. (H)Eureka!
Will you be an Early Adopter and take the EQ four-fold pledge each equinox? 
There will be tailored online resources, reinforced with targets, games and challenges to help your Pledge Card become a six-monthly habit, accelerating your journey to a sustainable post-carbon future.
altogether we're prepared!

EQ has great and good potential.




I like the big simple

truth it stems from and pays into




Seamus Heaney
A fascinating and imaginative initiative 




Archbishop Desmond Tutu

 
One touch of nature makes the whole world kin




Shakespeare
Click any dark green text for more matters equinoctial
*equinox dates vary: March 20/21; September 22/23
**equalunderthesun.org is a demo website built in 2013
is the Registered Trade Mark ® of Equinoctial Days Ltd.
Company No 584213
©Martin Nelson September 2021