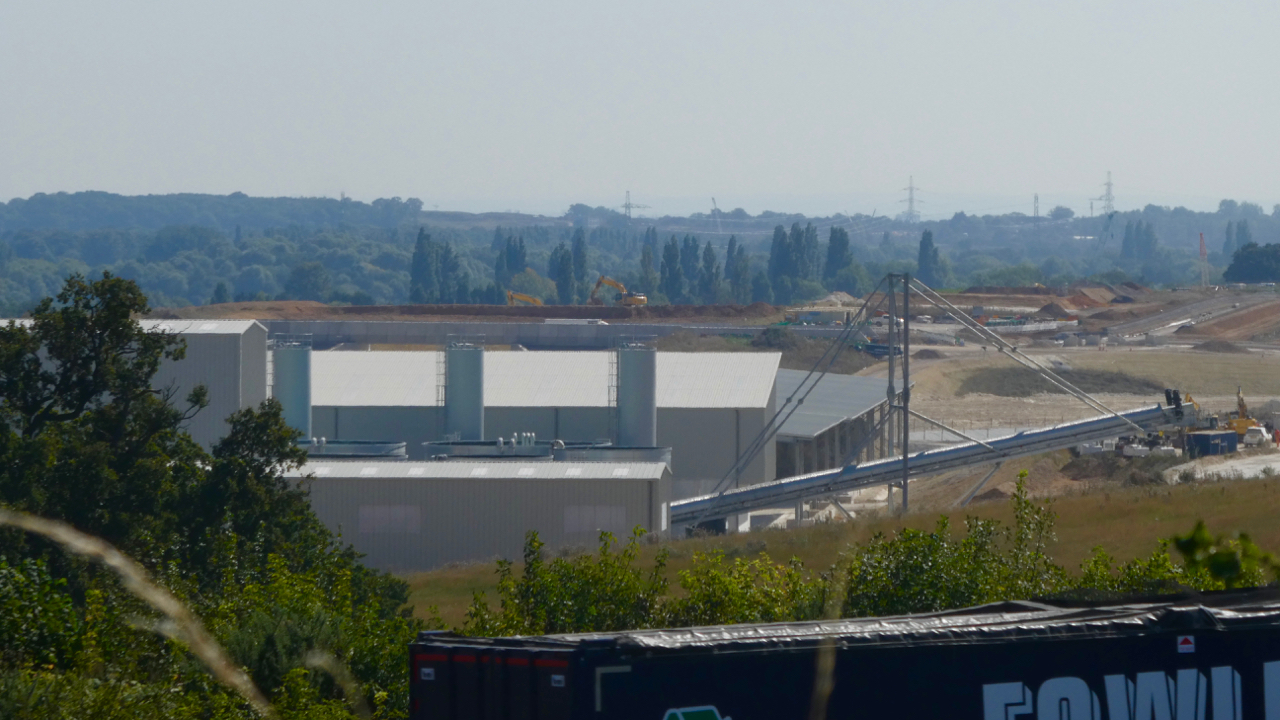 The countryside south of the Metropolitan Line as it penetrates deep into Buckinghamshire has been rebuffed by Cycle Orbital up to now. Not for want of exploration, but there are two issues that conflict with the network's aims; suburban sprawl has made the former villages of Amersham-the three Chalfonts-Chorleywood-Gerrards Cross almost contiguous – and the consequential traffic generated on all roads is substantial.
But checking the Other Cycle Routes overlay on Cycle Orbital's Route map the other day I noticed a "Milto" circular route which passes the final home of the poet John Milton in Chalfont St Giles, using some quiet lanes and byways. I had explored here years ago, and again recently when (successfully) leafleting in the recent Amersham by-election, so on the final hot days of summer I set off counter-clockwise, returning the next day clockwise, to see if a Spoke 8-9 Link will pass the rigorous test of a CyOrb route.
It does. "Milto" – aka Chiltern Heritage Trail: Milton Route – provides the template, with modifications, for the northern section from Chalfont St Peter to Little Chalfont. The southern section combines with and complements Spokes 8S and Spoke 9N, both westward-bound from West Drayton, for Eton Dorney and Arc 9 at the Jubilee River, Burnham Beeches and Arc 10 at Cliveden respectively.
There is much to enjoy, especially in the southern section: a delightfully watery two miles on London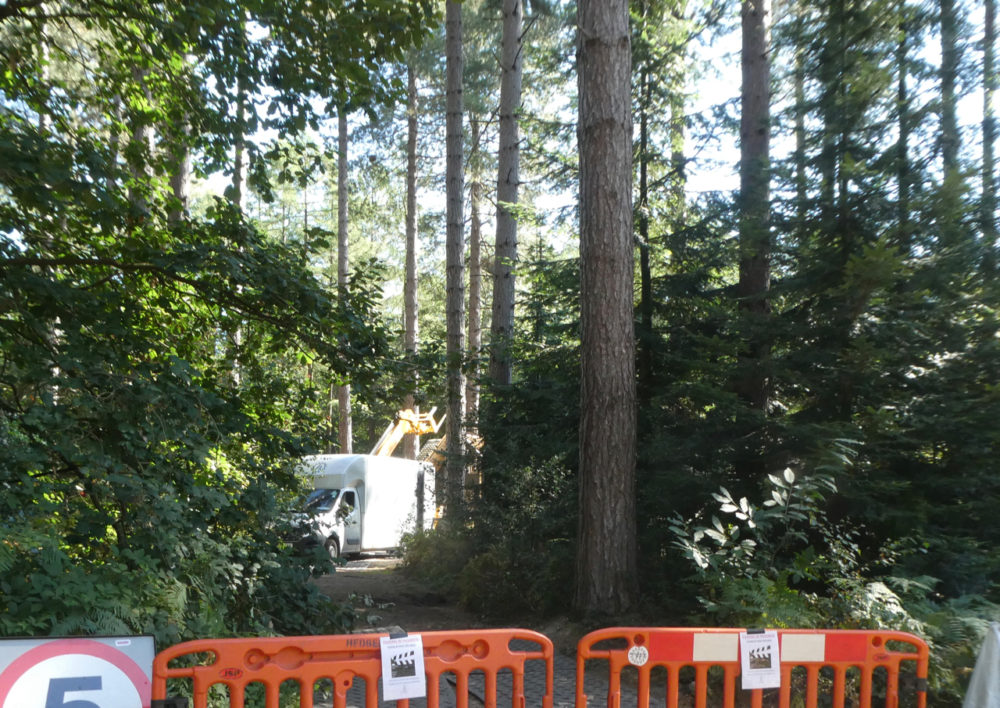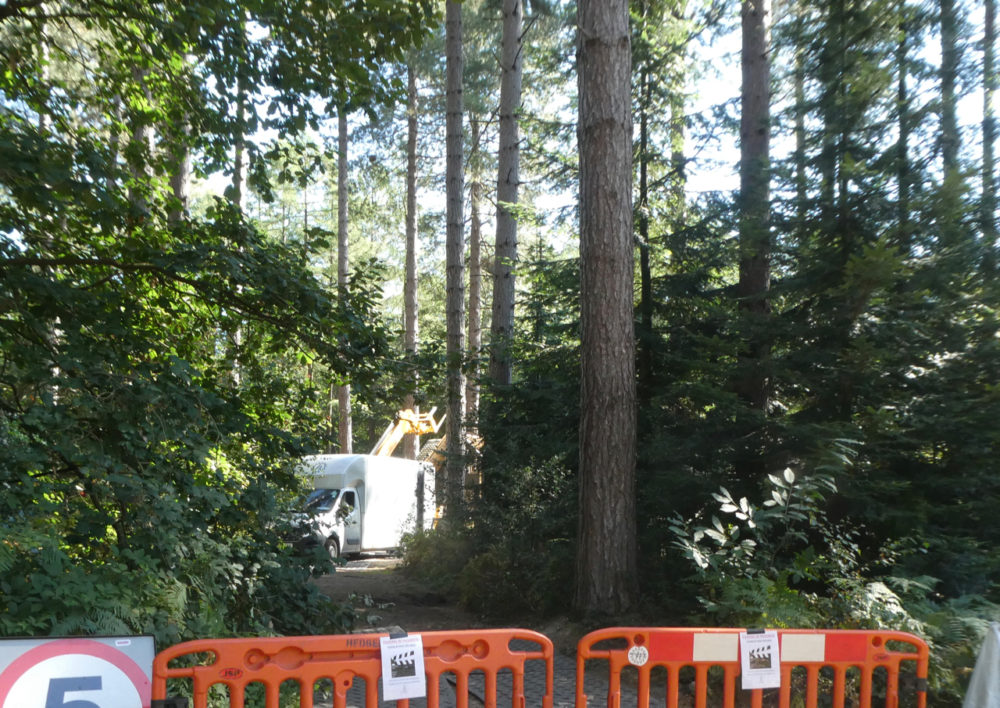 LOOP Beeches Way aka Colne Valley Trail over the Slough Arm Canal, then beside the braided River Colne and accompanying fishing lakes. It also offers an alternative route through Black Park. This splendid area of high trees and heath adjoins Pinewood Studios and has therefore served as a useful outdoor location for countless movies, from Hammer horrors, several Bond movies to the Harry Potter franchise. Disney was building a cottage deep in the trees as I passed; a gofer told me 'word has it that it's going to be blown up…'
Continuing north I cross over the M40, but on quiet lanes to Gerrards Cross, where commuter belt suburbia is continuous through to Chalfont St Peter and beyond. But then a bucolic West Hyde Lane leads to an unloved but mercifully short section of bridleway, Old Shire Lane, found at a sharp bend in the road.
This is where the Paradise Lost? query of the title is invoked, for here, by turning briefly south on the road, a Miltonian Tartarus hoves into view. The M25 has already announced itself from its background noise, but here too is the HS2 Colne Valley Western Slopes site, and the eastern portal for the sub-Chilterns tunnel of this project. The featured image shows the tunnel entrance workings from over the M25, Denham and Ruislip in the background.
Chilterns AONB this is not, and since Cycle Orbital has a symbiotic relationship with the railways, I have to break a rule and be a bit political here.
A report today from the Rail Delivery Group states that commuter levels are down 33% on pre-pandemic levels, and that it may take years to recover passenger numbers, with serious economic, traffic, CO2 and air pollution implications. Cycle Orbital's model is for cyclists to use trains at non-commuter times to access the countryside, and therefore depends on a healthy rail economy, with income resources and investment judiciously managed.
Where does HS2 fit in, and why suggest this portal is an entrance to Hell? A bit harsh, certainly – and Gerrards Cross to Chorleywood via Chalfonts St Peters, St Giles and Little is hardly Pandæmonium, the capital city of Hell! Far from it. And yet…
I believe, even as a passionate rail supporter, that HS2 is a classic macho-vanity project: misconceived from the outset, diverging from what the future nation needs from a strategic rail network by the day. It threatens to suck up funding on a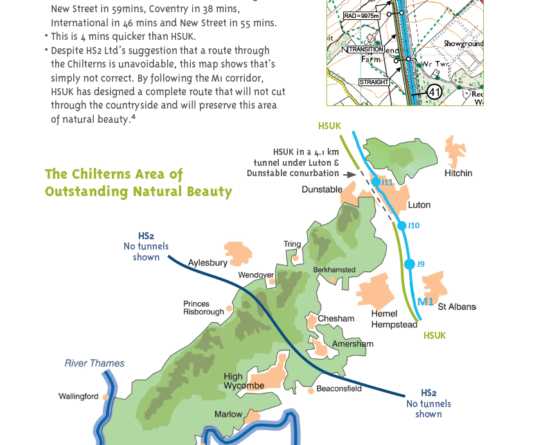 biblical scale that could have been allocated to less grandiose rail projects, or to the infrastructure needs for combatting the climate emergency – just as biblical – and building a post-carbon economy.
Some years ago I saw a much more joined-up – in every sense – project that would have integrated HS1 and 2, used the Midland Railway/M1 communications corridor, the UK's spine, and a central interchange with freight lines from East and Southwest, Northeast and Northwest in the Rugby area. Straightforward technology can add a 'piggy-back' system for truck traffic on the M1 on such a rail corridor (NB with fewer truck drivers needed!). It is still out there, with a comprehensive plan for the rail network – HSUK – and I recommend downloading their brochure. It still looks like a 'no-brainer' improvement on HS2 in every respect; this screenshot just addresses the subject at hand.
Sadly though, Mammon and Beelzebub, Belial and Moloch have prevailed and we are being delivered of a very expensive 'sling-shot' line to and from Birmingham with almost no interconnectivity. The prospects of extensions north – where rail infrastructure investment should have already begun – recede by the day.
And what of Pandemonium-in-the-shires? These towns are very desirable places to live, of course they are, and that is the point: despite Green Belt restrictions, the overheated southeast economy is devouring land for homes alarmingly. This spoke link has found quite a bit of 'peaceful recreational cycling' within these quasi-suburbs, and at least HS2 buries itself in shame here. But John Milton tempted me, Satan-like, with a good hook for some polemics.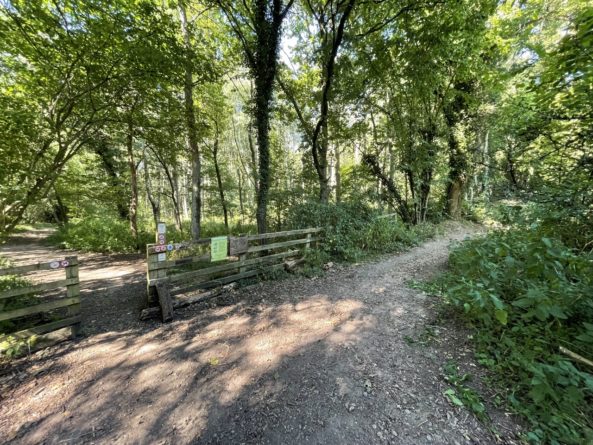 Back to Old Shire Lane. This is a presumably very old drove road that follows the Bucks-Herts county boundary. Spoke 8-9 link follows it for almost three miles as metalled road and as byway. Here it is in byway mode alongside the Woodland Trust's Philipshill Wood, climbing to the Chorleywood suburbs. The spoke link will end near Little Chalfont by joining Spoke 9W, which plunges down into the lovely Chess valley on its way towards Arc 11 for St Albans and Hemel Hempstead.
The Chess is Paradise, on the other hand. From Rickmansworth to Chesham, despite the shadowing Metropolitan Line and bisecting M25, this beautiful valley has defied development. It's been a haven for walkers and nature lovers for as long as I've known it; we came in my childhood from Wembley for a weekend 'freath of bresh air' as I Spoonerishly called it. And, if there are downbeat elements to this tale, don't forget: the countryside around Chalfont St Giles inspired Milton to write Paradise Regained…
©Martin Nelson 9th September 2021