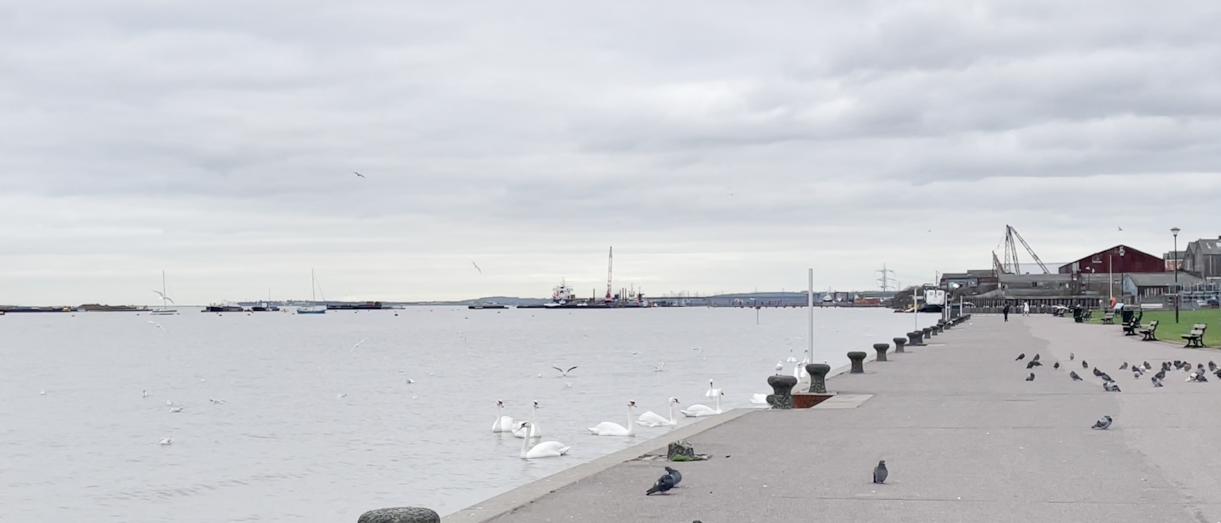 Jerv had a significant birthday this week, and his friends were asked to contribute to a video. I was due to ride to Chatham – Dickens' formative years were there – to see my great-nephew perform in Little Shop of Horrors. Jerv, a consummate actor, is a natural Dickensian – his name even suggests it. So my thoughts turned to Pip and Magwitch, Pickwick, Micawber, Mr Bumble  – and a plot started to unfold…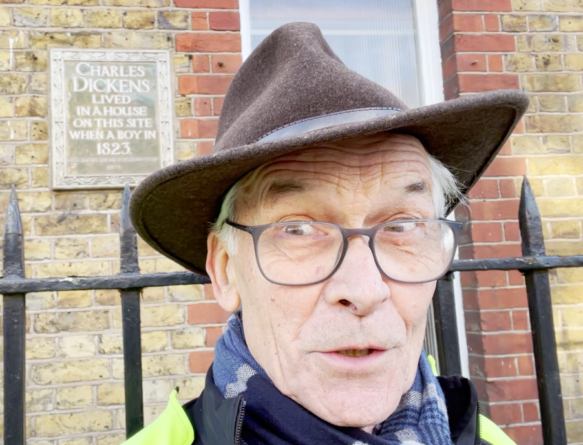 My first piece to camera (Jerv was to be transformed into a composite great actor of the 1930's 40's and 50's; I am a somewhat unhinged thespian fan of his oeuvre) was beside a plaque commemorating Dickens' childhood home in Camden Town – also a fictional home (when not in the debtors' prison) of Mr Micawber from David Copperfield. Next stop: the stage door of Theatre Royal, Drury Lane, for Jerv actually did play Mr Bumble there in Oliver!
If I was to ride the whole way, so many Dickensian haunts pepper the route through Lincoln's Inn, Southwark, Rotherhithe and on down NCN4 and NCN1 that I would not even have got as far as Gravesend. I wisely took the train from Charing Cross to Dartford and inspected Spin-off 4 instead, resuming the Dickens theme in the Kent marshes.
Spin-offs 3 and 4 are Cycle Orbital's poor orphans, on either bank of the Thames estuary. I am very fond of them, for they are vulnerable routes, spooky in places, but also truly spectacular with their many estuarine vistas. Spin-off 4, I maintain, should be adopted as NCN 1 from Erith, via a new crossing of the River Dart, the Swanscombe Marshes and Rosherville to Gravesend – or would you rather ride alongside the 8-lane A2 via Bluewater on the current route?
There had been changes since my last ride, but the western entrance to Swanscombe Marshes (which needs help to be designated an SSSI) is still guarded by giant concrete blocks to prevent moto-cross joy-riders, and a porterage is necessary. Such a shame, as the eastern portion is Botany Marshes nature reserve, where fine shared use paths are protected with cycle-permeable gates. This is potentially a very special wildlife area; cyclists and walkers*, ride (and petition) to the rescue!
The big changes came after Ebbsfleet FC ground. Previously, a truly creepy few yards had to be negotiated to reach a path through a cement depot, but developments are afoot, and a new Thames path strikes through by the riverside; good news! And by April, this path will continue to Gravesend, but in Rosherville (the Pleasure Gardens there tell an extraordinary story – follow the link) more works are blocking the way, and I had to beat a retreat inland to reach Pocahontas' Gravesend.
Spin-off 4 ends at Gravesend's Gordon Promenade (featured image), but a NCN1 with much better off-road manners takes over now, riding alongside the old Thames-Medway canal. This used to tunnel through the tongue of chalk hills at Higham, emerging close to Rochester – but the railway rudely highjacked it. End of canal (end of Canal Era), except as a wetland wildlife sanctuary.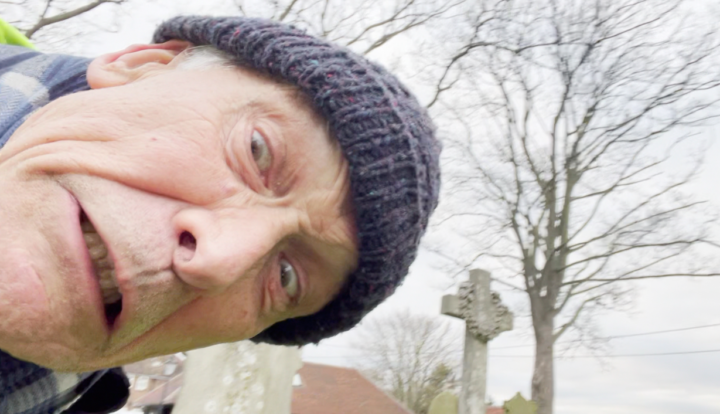 However, here I deviated north into the marshes of Cliffe and then Cooling. This was the churchyard where terrified Pip came upon the escaped convict Magwitch in Great Expectations; cue another bizarre piece to camera for my Jerv tribute.
After Cooling it got hilly, but I was enjoying the exploring of an area to which this odd adventure had led me, and it was getting dark by the time I reached Rochester Bridge, where I was to recite a passage from Pickwick Papers, so I sheltered instead in the courtyard of the equally Dickensian Bull Inn for my final clip. There was no time to explore Rochester or Chatham, where Dickens spent his formative years living at No. 2 Ordnance Terrace, by the station. My source material, by the way, was a website that is full of mapped and spatial information about the man, his books and his characters: The Charles Dickens Page.
And so, dear reader, I dismounted my steed and repaired to a hostelry for victuals and liquid sustenance.
After that, my young relative, as Mushnik, was to bring me back to the present time, for the Old Curiosity Shop was being replaced by a Little one – of Horrors. And very good he was, too. I doubt if Jerv could have done better.
* Footnote for walkers: much of Spin-off 4 shares with the English Coastal Path. Additionally, the many connections with the Great War were explored by my friend David Wenk in his Western Front Expedition, a 700 mile and eight-week marathon, London to Paris. Days 5 to 7 (Abbey Wood to Rochester) shadow much of this ride.